We are happy to announce the Inspectlet's newest insight feature: Visitor Typed Search!
Inspectlet's Visitor Typed Search feature allows you to delve deeper into your recorded sessions by searching for any text your visitor typed. Many of these visitors search products through the search bar that leads them to conversion, or used their name during the checkout process so you can look them up easily. You can now track these conversions by looking up product names and people by their name effortlessly.
For example, if you are a hotel website and want to know data about which cities and types of accommodations your users are searching for, the Visitor Typed Search function will allow you to easily do a targeted search for specific users. You can look up users based on the key terms they used such as City Name, Number of Occupants, Date, Type of Room, Etc.
Take a look at the example below: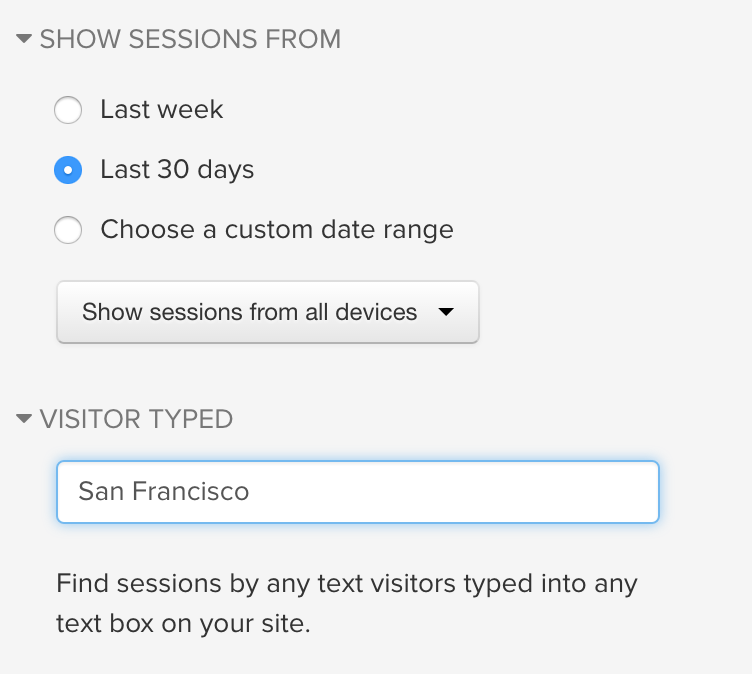 Similarly if you have an online clothing store you can track which products your users are searching for most and how they are interacting with the different styles or designs you offer. By using the Visitor Typed Search feature, you can track a user's full visit of how they came to a certain product page and which product they were most interested in. Examples of searches could be: Sequins, Denim, Halter, Maxi, Polka Dot etc. Similarly when looking for a session made by a particular customer, you can use the Visitor Typed Search to find their session based on their name. This feature allows you to gain a deeper level of understanding on the popularity of the products your company offers. By pinpointing the merchandise that is generating the most traction, you can streamline your sales process.
To start using Visitor Typed Search and gain detailed insights about your users, try Inspectlet for free today!